Fixed prosthetics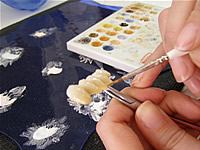 Crowns and bridges substitute the natural teeth that were badly damaged, esthetically inadequate, or lost. Crown replaces the natural crown of the tooth in its natural size and shape and is attached to the already prepared tooth or root through posts. Bridges replace missing teeth and comprise of dental elements joining permanently on adjacent teeth which need to be reduced to form an abutment. These partial dentures are called fixed since they are cemented and cannot be removed by the patient (as in cases of mobile dentures).
Nowdays, there are 4 ways to make crowns and bridges:
1.
Metal-ceramics
The base is cast from a metal alloy (similar to Wironit), and is completely covered with ceramic (porcelain). This is a so called "classic" method which offers excellent esthetics and function.
2.
Gold-ceramics
Advantages of this combination are superior esthetics, biocompatibility and high precision. Many bridges made over 20 years ago satisfy the functional criteria. Nowdays, the base of construction is in gold, and is completely covered by ceramic material. The famous "gold tooth" is past now, but this superb quality of gold is united to the excellent esthetics of modern ceramic materials.
3.
CERCON SMART CERAMICS - high tech all ceramic material
There are not many materials, such as natural diamond, endowed with beauty and extreme durability. In the field of dental prosthetics, ceramic/porcelain has been used for many years in combination with metal: ceramic provides the desired esthetic effect, and metal provides rigidity. Nowdays we have at our disposal high-tech ceramic materials produced from zirconium oxide, which has already proved its superior resistance in most extreme conditions, such as space ships, disc brakes in sports cars, artificial joints, etc. Treated zirconium oxide is white, which gives us an advantage from the esthetic point of view. The shaped material is covered with ceramic Cercon Ceram S, acquiring the perfect color with regard to the adjacent teeth, following the natural forms and shapes in Your mouth. Dental works created with Cercon smart ceramics give natural appearance of the teeth, in combination with extreme rigidity and biocompatibility.
4.
EMPRESS metal-free ceramic
These are crowns and veneers completely in ceramic, with excellent esthetic properties. They are used to correct the shape, color, and appearance of the anterior (front) teeth, and only as single crowns/veneers (if a bridge is indicated, we must chose other technique). The main advantage is the thickness of tooth preparation (0.7-1 mm), which helps preserve natural tooth substance.
We collaborate with respectable dental technicians, since only this way we can assure our patients and provide high quality prosthetic works, guaranteeing a beautiful smile through the years to come.