Dental fillings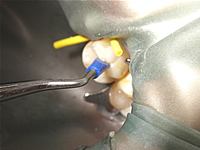 In cases of tooth defects caused by caries, fracture, old amalgam fillings (black/silver fillings), or esthetic problems, it will be necessary to place a new filling.
The advantage of composite restorative materials with regard to the classic ones in amalgam is mainly tooth preservation during drilling and preparation for placement of the filling. It is necessary to point out that amalgam is not able to adhere to the tooth tissues; its retention is purely mechanical in its nature and requires subsequently removal of large quantities of healthy dental substance. The composite material is attached to the tooth in chemical and micromechanical way, creating a rather hermetic bond – only the infected dental substance is removed. Following the placement of the composite filling the patient does not have to wait for hardening of the material.
While the amalgam has only one color – grey – we can use over 30 different shades of composite; this way only we are able to imitate the natural color and shape of the tooth, as it was before the defect.
In our dental office only high-quality dental composites are used, such as
ARTEMIS
,
TETRIC EVOCERAM
,
FILTEK SUPREME
(further details are available on
www.ivoclarvivadent.com
), and
CeramX
(
www.dentsply.com
).
We do not use amalgam.
In cases where, due to large-scale tooth destruction caused by decay and subsequent root canal therapy, a vast portion of the tooth substance is missing, it will be necessary to reconstruct the tooth using the adhesive technique with carbon or composite posts. Besides their extreme strength and superior esthetics, these posts offer the possibility of retreatment, i.e. their removal if the root canal therapy fails. There is no possibility of tooth fracture (as with metal posts) and abutment can be formed immediately after the root canal therapy is completed.
The patient leaves our office with the finished work. As for the occlusal forces, it is more favorable with respect to the "classic" cast metal posts.